What's New inside Engage?!
As Engage has rolled out over the past few months, we've been continuously iterating and improving the product based on your feedback. We are proud to share the most anticipated enhancements inside Engage below.
💸 Introducing Revenue Tracking
Revenue tracking is now automatically enabled when a Givebutter campaign URL is included in any outbound message. You can now see the total revenue attribute to an Engage message, including which recipients supported your campaign and how much they gave.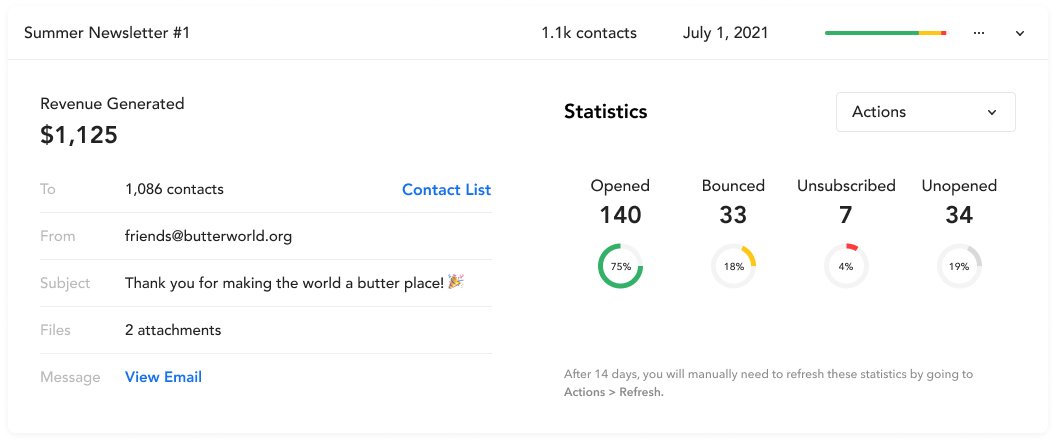 🔔 Managing & Monitoring Subscription Status
We've added a checkbox at checkout for supporters to opt into communication from your organization. You can now manually unsubscribe/resubscribe individual Contacts to your Engage emails and texts and perform this action in bulk. Contact pages also display icons to indicate if the Contact unsubscribed from Engage messages. The ability to see which Contacts unsubscribed from an Engage message is also available.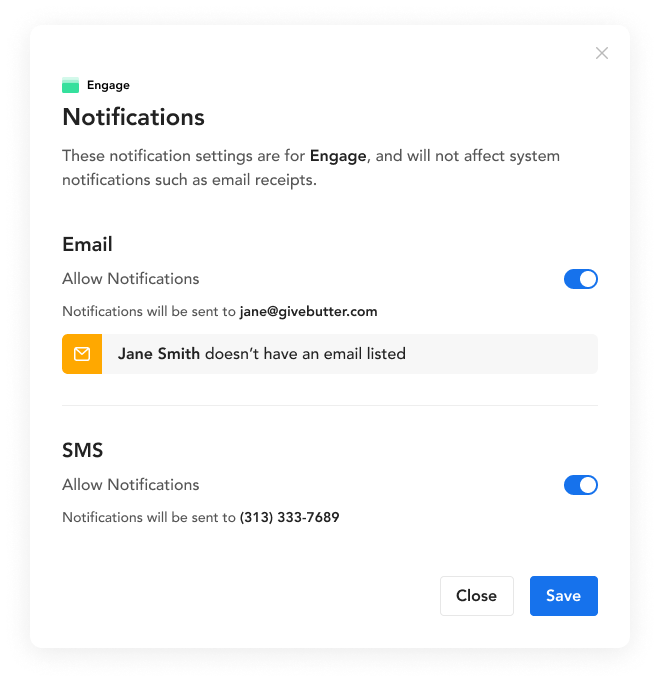 📧 Message Builder Improvements
The user interface (UI) for the email builder has been improved so the styling of the email editor will match the final email more closely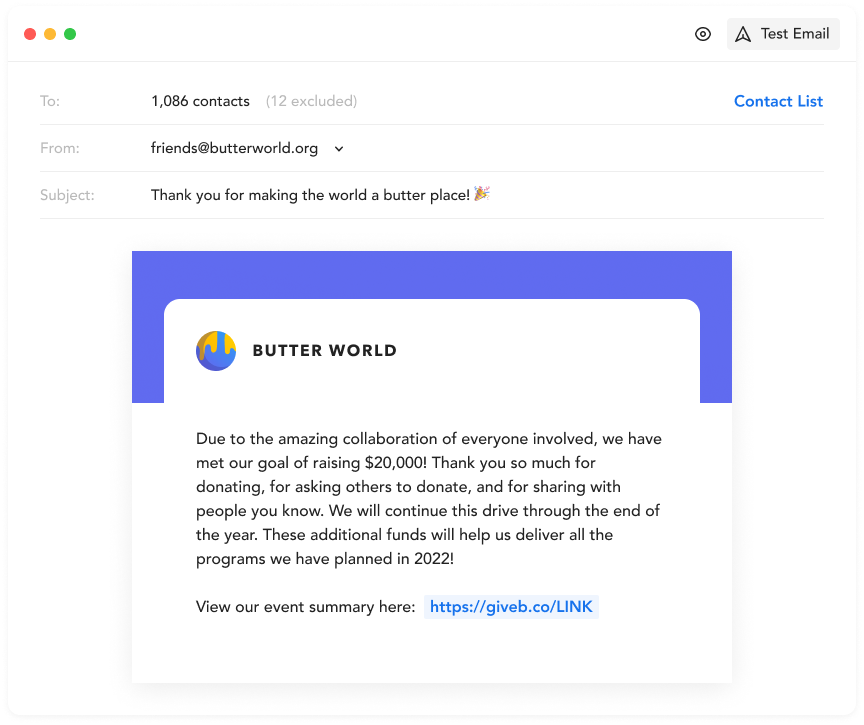 Improved the UI of adding email senders and branding settings
Added autosaving when editing the subject & sender fields and improved the autosaving frequency when editing a message body
Added the ability to include attachments to Engage Emails (5MB, 10 file limit)
Step 1 of the Message Builder now displays an indicator to show which Contacts do not have an email/phone number available and those who unsubscribed from your messages
Improved the UI of the scheduling section on Step 3 of the Message Builder
Givebutter will automatically check the links in your messages to make sure they are valid before sending
Added the ability to edit the name of previously sent messages
The date in the History table now shows the date of sending instead of the creation date
Scheduled messages now display the time for sending in addition to the date
Improved error handling in multiple areas throughout the Message Builder
Contact recipient message estimates now take into account those who have unsubscribed
Message History features an improved design with additional message details
Highly Anticipated Features
📑End of Year Giving Reports
You can now generate donors' end-of-year giving reports, also known as donor annual statements, and easily share them as a PDF or unique link. These reports contain a complete snapshot of donor history for the given reporting year, including all online transactions and any offline donations recorded on Givebutter by admins.
Sending an end-of-year giving report is an excellent way to give your donors a complete summary of their past years' contributions and simultaneously thank them again for their support.
Watch a video
demonstrating the process from beginning to end.
🏅Registration Fundraising is now in Beta
Registration Fundraising enhances the Team Member experience by adding a donation or ticket selection at the time of sign-up and page creation.
Team Members enjoy a simple login / sign-up flow with the ability to set their goal and share their story during the registration process. Admins can determine a minimum donation amount or required ticket selection at the time of registration and set a default/minimum goal and story template for Team Members.
Subscribe
for updates on the features' self-service availability and contact [
tori@givebutter.com
] directly if you're interested in activating the Beta feature.