New contact creation and edit form
We've made several improvements to our contact creation form and contact detail pages to make it easier to manage your contacts and support some of the new features below and in our 2023 roadmap.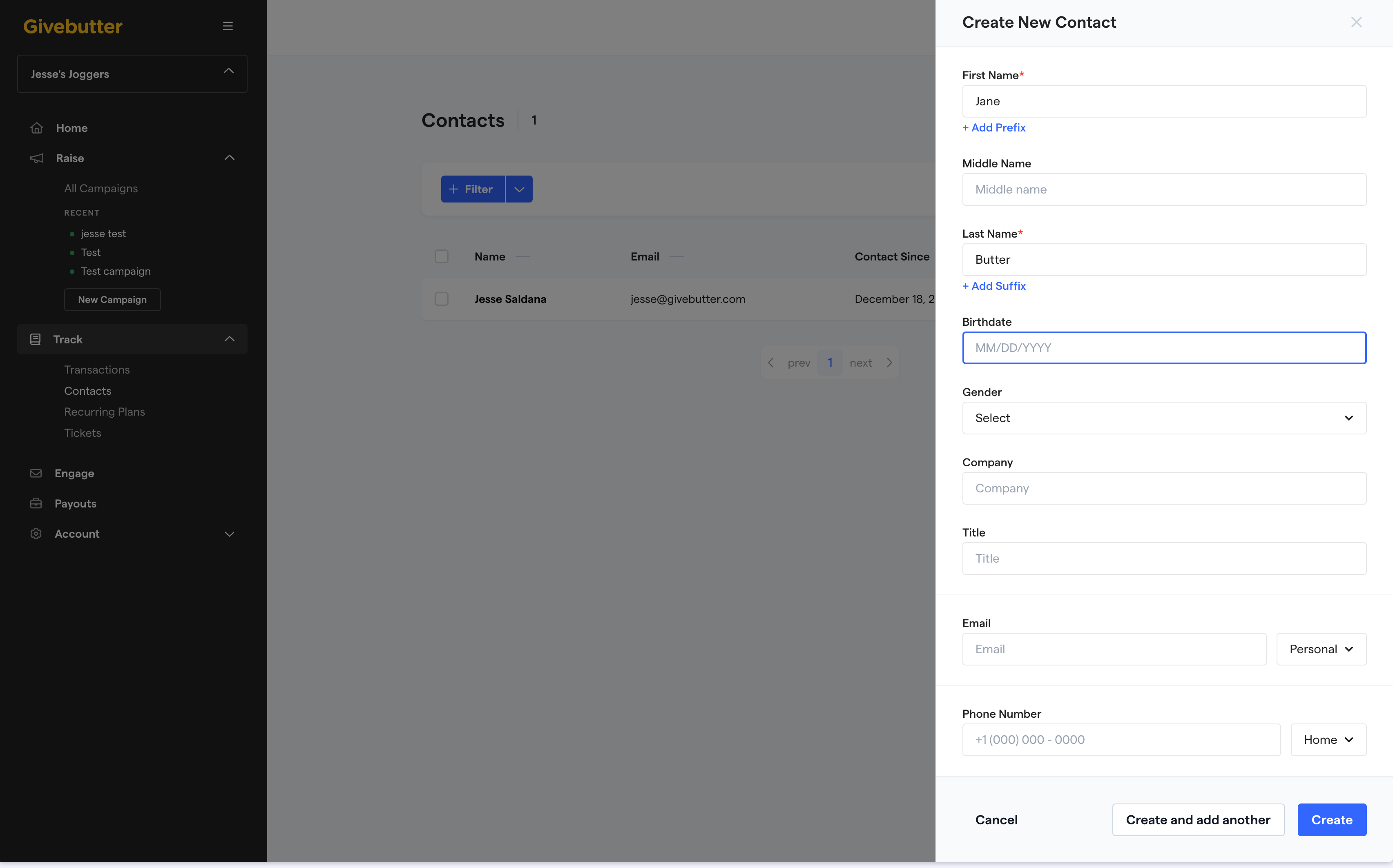 When creating or editing a contact, you can manage the following fields:
First, middle, and Last name
Birthdate
Gender
Company and title
Email
Phone number
Address: Automatically auto-completes the address you enter
Note
Tags
Custom fields (if applicable)
Indicate Engage subscription preferences for Email and SMS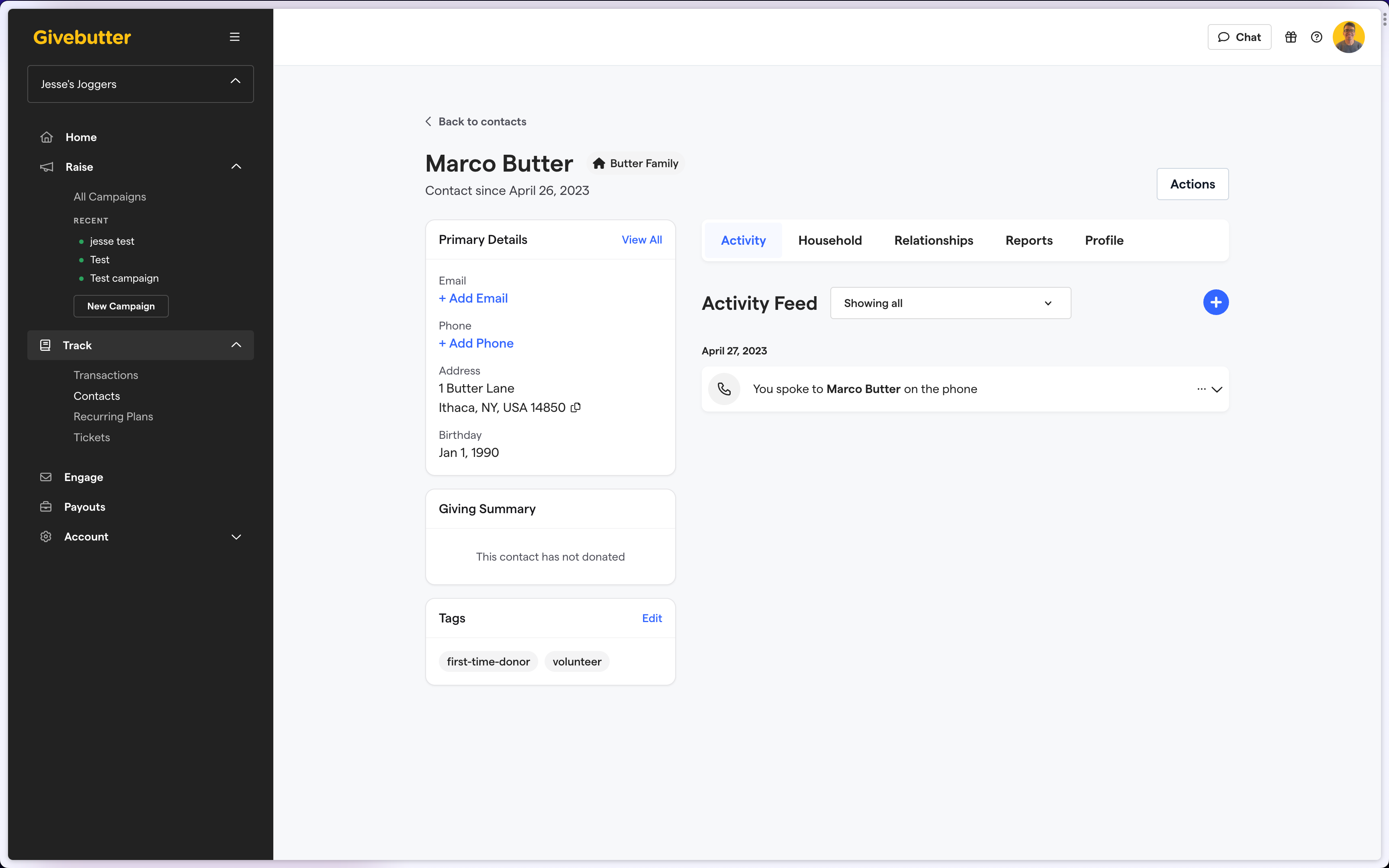 On the contact details page, we've organized the page into a sidebar and five tabs:
Activity
Household
Relationships
Reports
Profile
On the profile tab, you can manage the following:
General personal information about a contact, including adding multiple phone numbers
Add/edit addresses
Add/edit social accounts
Manage Engage subscriptions
Add/edit custom field responses (if applicable)
If the DonorSearch integration is enabled, you can run a wealth screening on a contact.
From a contact page, you can create a Household by navigating to the
Household
tab and clicking
+ Create New
You can also add a contact to an existing household by clicking
Join Household
and typing in the name of that household.
When you add a contact to an existing household, you can create relationships between that contact and other household members.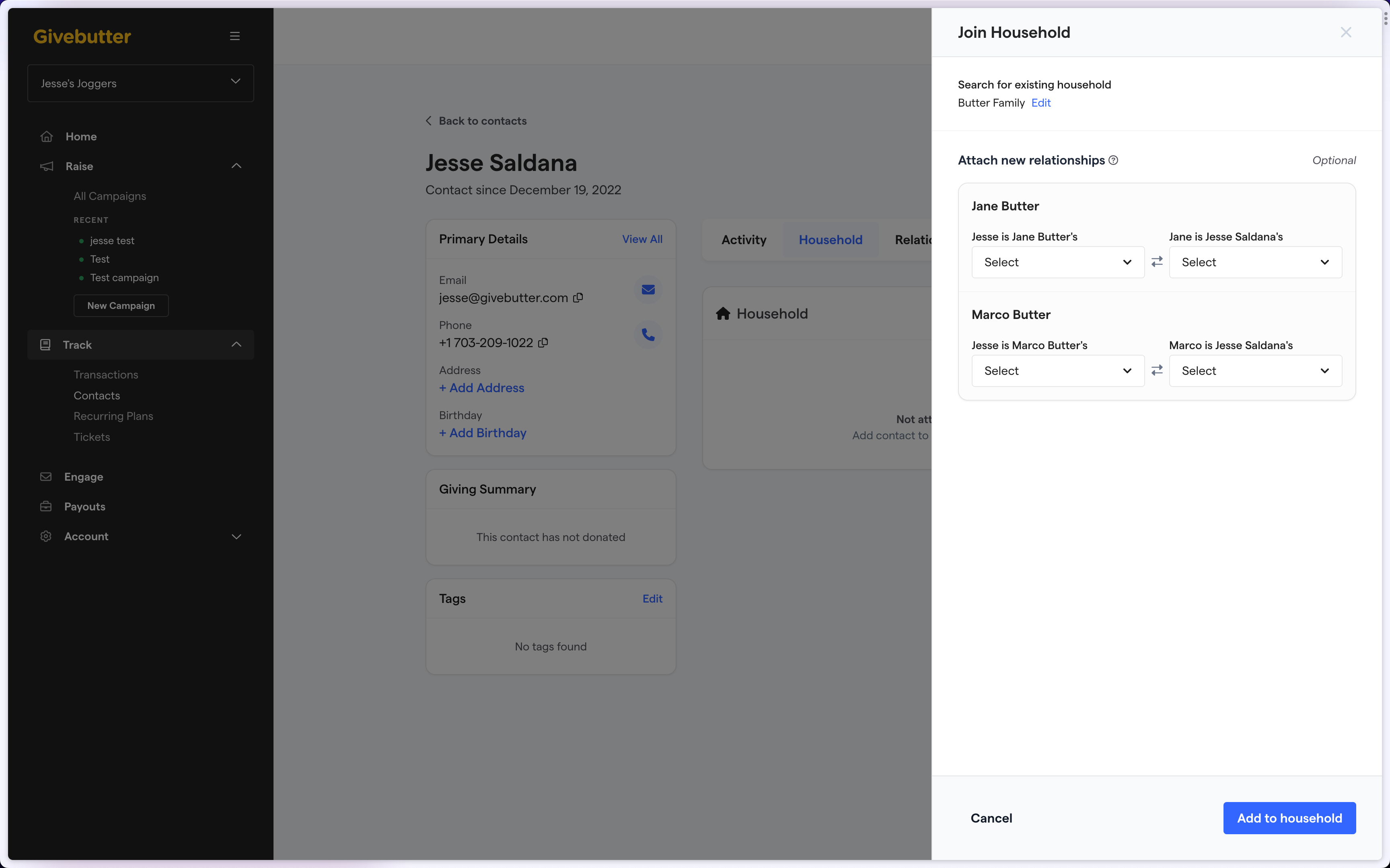 When a contact is a member of a household, you'll be able to:
View all members of that household.
Make a member the primary contact of the household.
View the contact detail page for anyone in the household.
Remove a contact from a household.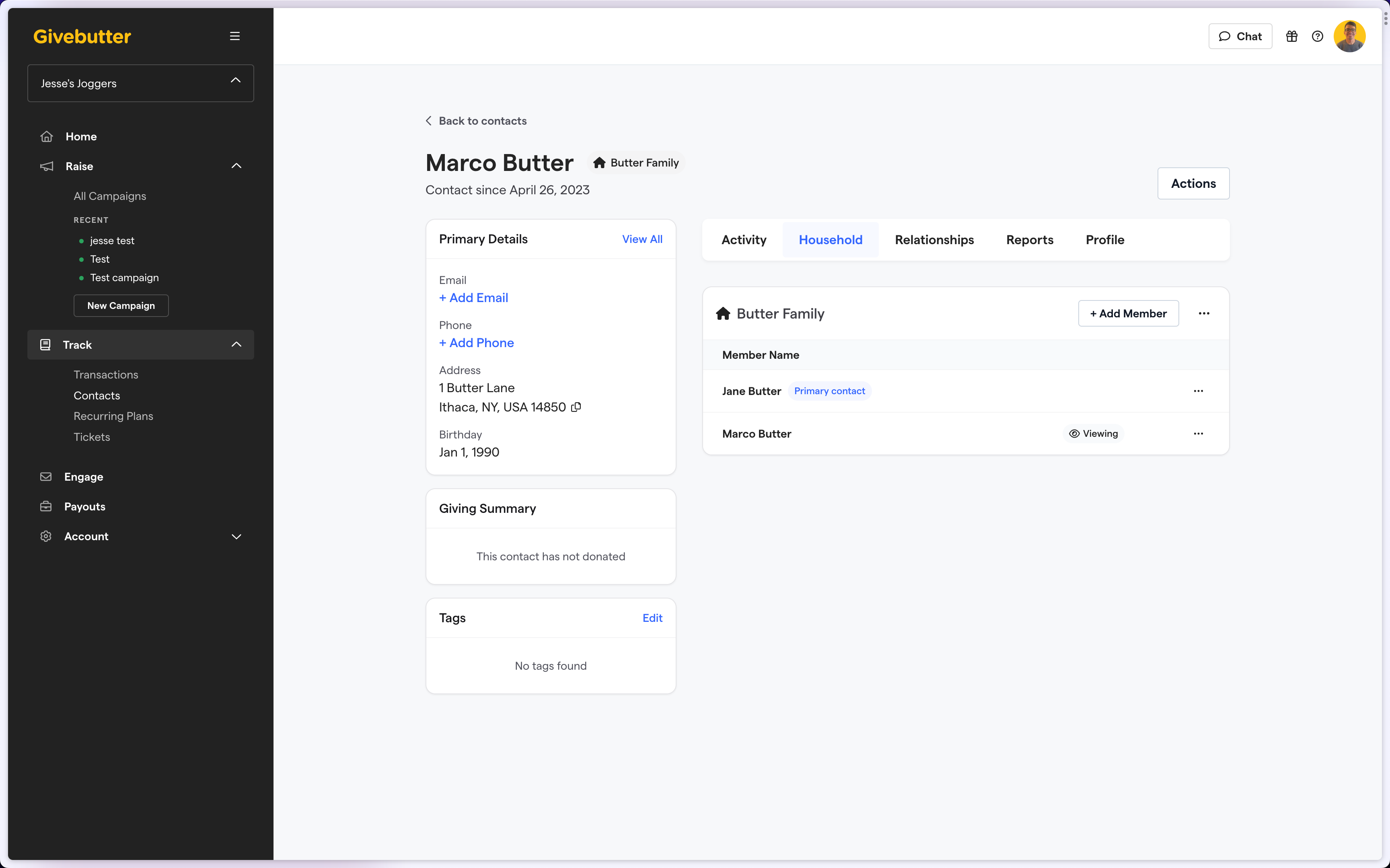 From a contact page, you can create a relationship for that contact by navigating to the
Relationship
tab and selecting
+ Add relationship
.
In the Create Relationship sidebar, you can search for a contact and define the relationship between the current and related contacts.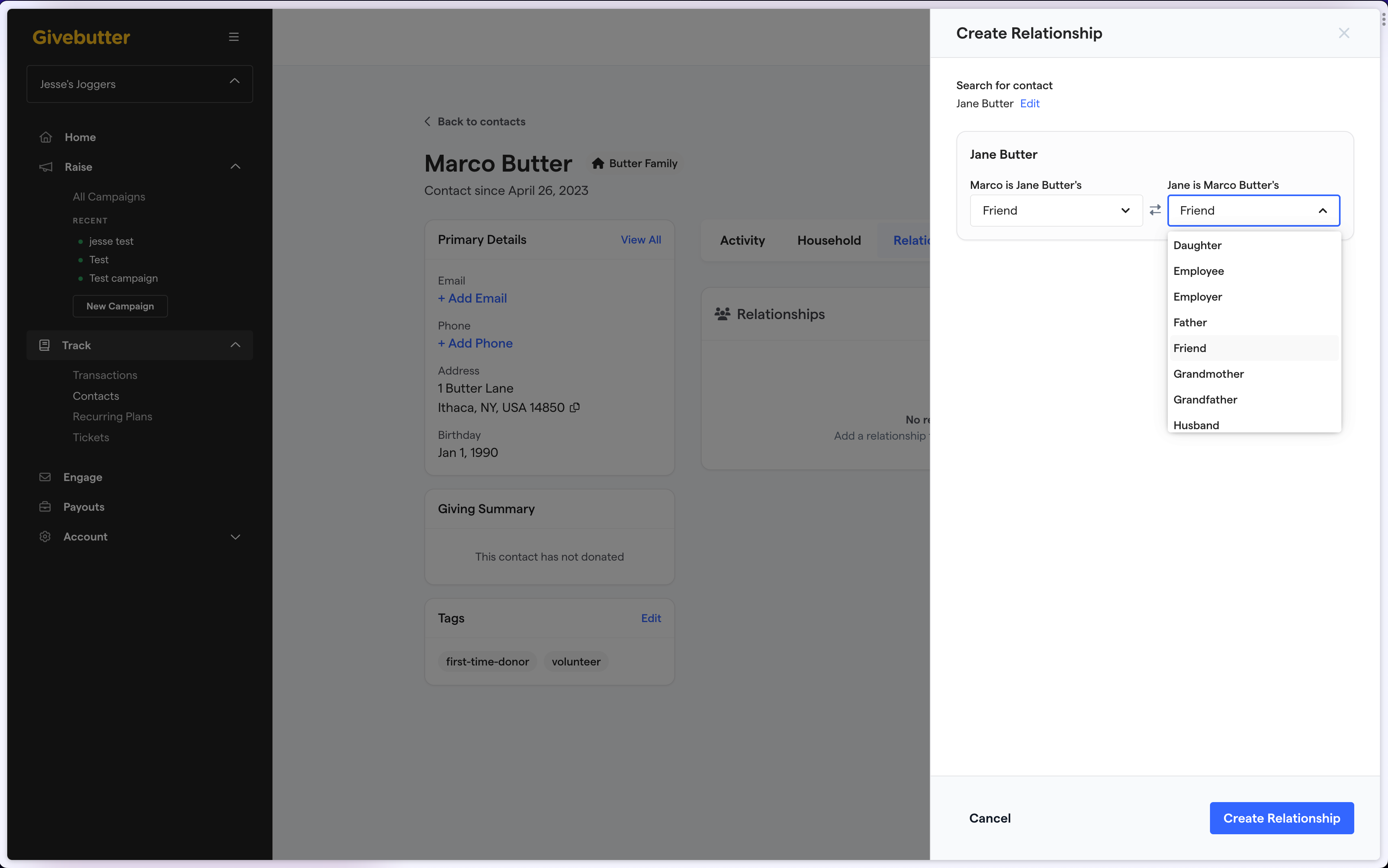 Added a new page to manage tags under

Actions

>

Manage Tags

. You can add, edit, delete, or search tags from this page. You can also click the number of contacts associated with a tag to see a list of contacts filtered by that tag.