The most powerful way to drive donations to your campaigns is to put calls to action right where your donors already are: on your website!
Embed
Elements
on your website by copy-pasting provided HTML code into the editor area of the site where you'd like them to appear.
Bubble
: add a customized Donation Bubble to your website that displays a donation form when clicked. By default, your Donation Bubble will float in the bottom right-hand corner of every page of your website.
Learn more →
Button
: add a customized Donate Button anywhere on your website that displays a donation form when clicked.
Learn more →
Form
: add our donor-friendly donation forms to any page on your website.
Learn more →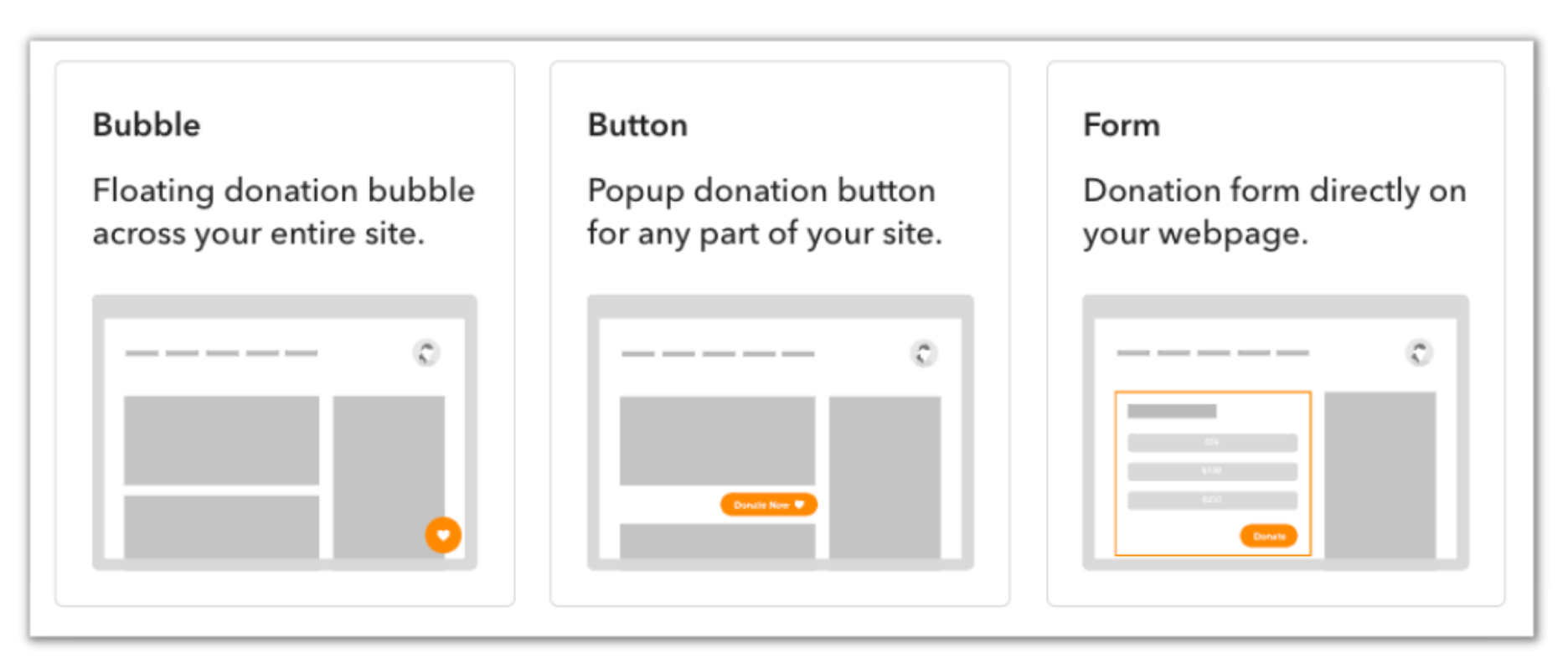 👍 [Recommended] Dynamic Elements
Easily create Elements and manage their configuration through the Dashboard. Creating your Elements from the Dashboard will allow you to dynamically update your customizations without needing to update your site's code. This includes customizing colors, borders, and other styles and is the recommended method for using Elements.
🚧 [Advanced] Coded Elements
If you'd like complete control over Elements, you can create them directly with our library.
Visit the Coded Elements section
to learn how to develop Elements using HTML, JavaScript, and more.
📈Source Tracking & Analytics
Whether you are using a Bubble, Button, or Form,
Source Tracking
is automatically available, enabling you to make smarter marketing decisions by knowing how each donor found your fundraising campaign. Source Tracking data automatically flows directly into
Track
, our completely free donor management CRM. Track source data no matter what page of your website a donor visits first and for up to 30 days when the donor leaves and comes back later to make their donation.
To pass source tracking data (aka attribution data) to your Givebutter Dashboard, add unique URL parameters to each marketing link/URL pointing to your website.
All UTM parameters are supported.
Pass custom parameters using Givebutter's gba_ prefix
Parameters also pass to Google Analytics when installed on your website
🆕 Additional Improvements & Bug Fixes
Stop automated donor invites when a campaign is no longer active
Added fees covered by donors in Transaction sidebar
Fixed an issue where recurring plans got stuck in a processing state
Fixed a bug related to contact creation via the API